MerlinCDN allows you to access service logs for your distributions in 2 ways:
1. Recent Logs
Recent Logs refer to the last 1000 raws collected in the log files. You can access the recent logs per distributions for up to 3 days. Recent logs section is useful to view the recent performance by HTTP status codes broken-down by distribution name, zone, and date and filter HTTP responses to point out errors instantly.
To access the Logs section; follow the steps outlined below:
Log in to MerlinCDN Management panel.
In the left navigation sidebar click Logs.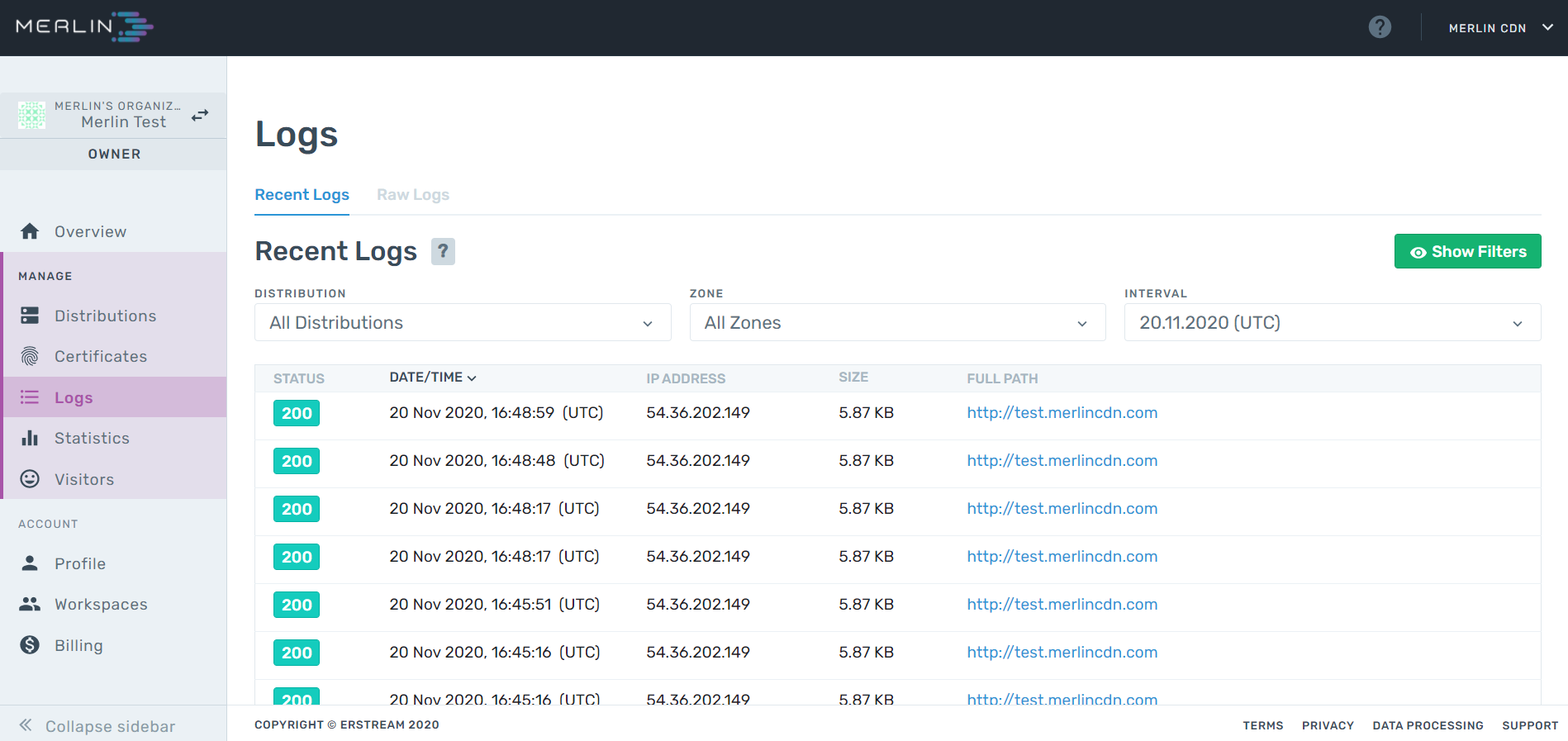 You can filter Logs based on:

Distribution: You can view the recent logs for all distributions or select one to sort results.

Zone: You can view the recent logs from all MerlinCDN Zones used in your distributions or select one to sort results.

Interval

: You can view the recent logs from the past three days by selecting

required day as interval.
You can also expand filtering options by using Show Filters button on the top right. You may use filters to include or exclude success and error codes based on the nature of your inspection. By default, all HTTP status codes are included in the results. Click on Apply Filters to execute the selected filter.

Data filed available on the logs are as follows:

You may view detailed information on each raw by hovering the mouse pointer on the full path field.

2. Raw Logs
Laws and regulations may require keeping service logs for a certain time. MerinCDN allows you to collect raw logs for your distributions and download them daily directly on MerlinCDN Management Panel.
Raw Logs can be enabled or disabled per your requirement in the Advanced Settings section of your distributions. Log collection starts when Raw Logs option activated, collected logs are then packed into a downloadable format by the end of each day. Download link will be available in this section. Links are valid for 3 days and expire after this duration.